To help you plan your visit we have put together detailed guides to help you get around South Korea by Train, Bus, Plane and Self-Drive. Click on the options below to check them out further.
Don't miss out on the opportunity to make your trip planning easy, hassle-free and organized. Click here to download your FREE printable checklist, to help you to plan your trip step by step and tick off items as you finalise your preparations.
Join the South Korea Travel Planning Facebook Group
You are also welcome to join our South Korea Travel Planning Facebook Group – it is a great resource to enable you to ask questions about your upcoming trip to South Korea!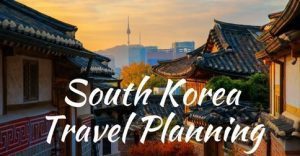 Disclaimer: This article contains affiliate links. If you book after clicking on one of these links then we may receive a small commission at no extra cost to you.