Busan is the second largest city in South Korea, with a population of over 3.5 million people. It is located in the south east of the Korean Peninsula and is a seaside city, with many lovely beaches which are very busy in summer! Busan has a great combination of traditional charm combined with modern experiences.
Busan is accessible via the Gimhae International Airport, which is located a one hour trip by bus/train north west from Busan Station. There are also many domestic flight options to enable you to easily get around South Korea.
Busan is also easy to get to from Seoul – the fast KTX trains make the journey in only 2.5 hours direct, or using the cheaper Intercity or Express Bus options it is a 5.5 hour journey.
A great option to make the most of your Busan visit is to purchase a Visit Busan Pass for either 24 or 48 hours. The pass includes free access to most popular tourist attractions in Busan and discounts for a great range of food options and attractions. The Visit Busan pass also includes free travel on the City Tour Bus Hop On Hop Off Bus, and if you load credit to the card it can be used as a public transport card. Click here to check out and purchase your Visit Busan Pass through Klook.
You can also easily travel between South Korea and Japan by the fast ferry service between Busan Port and Hakata Port in Fukuoka Japan. (note that this service has been affected by COVID19, so hopefully it will resume after Japan reopens their borders to tourists – information correct July 2022). You can also catch the ferry from Busan to Jeju Island.
For amazing views over Busan you can visit Busan Tower and Geumjeong Fortress. Busan has seven public beaches, each with their own unique vibe and associated viewing points and coastal walkways. Busan is also very well known for its massive downtown market area, which has great options for seafood, general goods as well a night food alley. There is also overall great food culture, theme parks, nightlife and shopping to explore.
For visitors, there are many hotel options ranging from luxury, mid level and budget options.
Busan Attractions
Busan has many great places to visit and things to do, so read more about them in our articles below.
---
Busan Accommodation
There are a great range of accommodation options in Busan from luxury hotels to mid range and budget options. Read our more detailed guides below.
---
How to Get Around Busan
We have put together detailed articles to help you learn how to easily get around Busan. Read our detailed guides below.
---
Don't miss out on the opportunity to make your trip planning easy, hassle-free and organized. Click here to download your FREE printable checklist, to help you to plan your trip step by step and tick off items as you finalise your preparations.
Join the South Korea Travel Planning Facebook Group
You are also welcome to join our South Korea Travel Planning Facebook Group – it is a great resource to enable you to ask questions about your upcoming trip to South Korea!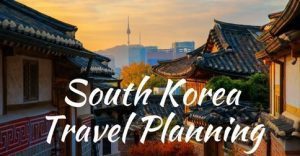 Disclaimer: This article contains affiliate links. If you book after clicking on one of these links then we may receive a small commission at no extra cost to you.